Samsara Journeys is the tour and trek division licensed under the company name Device Travel and Tours. Samsara literally means to perpetually wander and to pass through states of existence. With over 16 years of experience in the travel industry, Samsara Journeys' reputation for excellence is earned every day by providing the ultimate in value and personal attention: a reputation based on our commitment to always exceed our client's expectations.
We are dedicated to providing quality customer experiences and we are motivated by the belief that great service builds great relationships.
Samsara Journeys also offers international and domestic ticketing services.
Razzu Tuladhar
Managing Director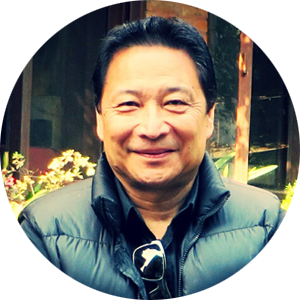 Razzu Tuladhar has been associated with the travel industry for over 25 years. After completing his graduation he entered the travel industry heading the East Himalayan Division of Caravan Travels (1990 – 1992) and Paramount Nepal Tours & Paramount Nepal Treks as Partner and Operational Director (1993- 2006) before finally deciding to start Samsara Journeys. Having led many treks and tours in Nepal, Tibet, Bhutan and Sikkim, his thorough knowledge of the tourism industry backed up by his hands on experience in operations qualifies him to live up to his claims.
"Our organization goal is very simple. We strive to provide a a mutually beneficial relationship with our clients by delivering the best products with the most competitive rates backed by the best service possible."
Marian Leighton
Tour Director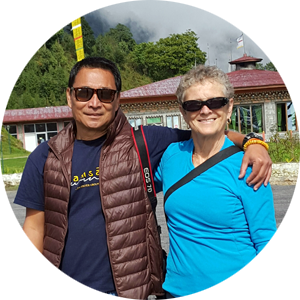 Marian Leighton spent many years as an expatriate from Canada, starting in 1987 when she and her New Zealand husband and young daughter left for two years in Indonesia. She then lived for 18 years in Saudi Arabia with her family, which allowed them to travel extensively. For several years she led tours to Turkey, Kenya and the Himalayas. Since 2004 Marian has worked with Razzu Tuladhar as a tour leader for clients from the Middle East, New Zealand, the US, Canada, South Africa and the UK. Marian and Razzu have led many treks since 2007 including several to the Annapurnas as well as to Everest Base Camp and Mustang. Following the 2012 Mustang trek Marian took an 18 month break for surgeries and treatment for breast cancer. Back to trekking after breast cancer, Marian and Razzu led another Annapurna Base Camp trek in the spring of 2014. With that trip sold out, they led yet another ABC trek in the fall of 2014. 2015 found them leading a trek in Bhutan followed by a tour in Rajasthan, India.
Marian and Razzu look forward to leading tours and treks in Nepal in 2016 as Nepal rebuilds from the devastating earthquake in April, 2015.
Marian will be happy to assist in the planning of any tour that you might be interested in and if you wish to have a Western tour leader accompany your group, no matter what size, she will be pleased to assist in that too.
Shyam Karky
Trekking Guide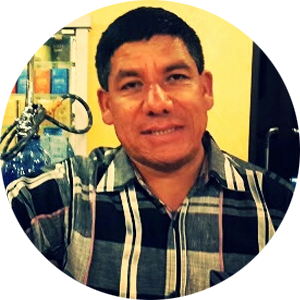 Shyam Karky has worked for more than 25 years in the trekking business, working his way up through the system, working first as a porter, then a cook boy, cook and for 12 years he has been our trek sardar. We consider him one of the best in the field with his amazing ability to both manage the large number of staff required for each trek but also to work with clients from many parts of the world.
His ever smiling and helpful nature combined with vast knowledge of the Himalayan Mountains has made him the "best friend" of many a trekker.
He is most certainly one of the best in the field.